Commercial HVAC Maintenance
What does Custom Climates offer for commercial maintenance services?
As a full service and complete heating and cooling company based in Southern New Hampshire, we are licensed and insured to service all types of heating and cooling systems.  Our technicians are experts in all things heating and cooling, and we are well known in the community for offering top-rated quality service.  In fact, our lead service technician Phil actually teaches HVAC classes at the Manchester School of Mechanical Trades.  Custom Climates prides itself on bringing these qualifications plus many years of experience for your commercial needs.  Too often the maintenance technician sent to commercial properties is a fairly novice technician, since there is not a lot of profit for the company in maintenance services.  Custom Climates believes in sending our best technicians to every call and we don't judge the importance of either call.  Every repair call and every maintenance call are equal, since the proper maintenance is what can really prevent the repair calls.  Our technicians are always doing the maintenance on our commercial customers with the intention of giving a report of anything and everything that could possibly go wrong so that our customers will never go down if possible.  The amount of money a customer loses from having their HVAC system go down is far more than what our invoice is.
What should I know about maintaining an HVAC system?
Like any mechanical system, commercial heating and cooling equipment has many moving parts and often these parts can get worn down over time and fail.  It is important that we get our equipment maintained each year or as the manufacturer recommends.
As mechanical parts get worn and fail, they often can have a negative effect on other parts and pieces in the system as well.  So it is important to address any issues or concerns in your system promptly.  During a Custom Climates HVAC maintenance visit, we make sure to thoroughly inspect all parts of your heating and/or cooling system to determine if there are any other items that may be of concern in the near future.  Any good technician or service company should perform the same.  Our complete 26-point inspection gives you the best potential that there are no parts in the system that could potentially fail or cause a safety issue shortly after the technician leaves the building.
These steps and precautions are one part of what makes the quality of service from Custom Climates the best you can receive in a New Hampshire HVAC company.
Does Custom Climates offer and maintenance plans?
Yes, of course.  A maintenance plan is the best way to ensure the longest life expectancy and performance out of your HVAC system.  Maintenance is often something that is forgotten or given less priority than other things in our lives.  That is why our cars have alarms and notifications to get an oil change.  Signing up for a maintenance plan with Custom Climates gets you prepaid and leaves all the scheduling in our hands, so you don't have to remember to call us to book that appointment.  A visit in the spring to get your air conditioner ready for the season, and a visit in the fall to get your heating system ready for the season.  Along with these conveniences, we also give you a 15% discount on all repair services, add on and upgrade items, and indoor air quality products.  And lastly, but sometimes the most beneficial item, we give you a priority on service calls.  This means that if we are booked up for 4 days with repair calls, we will reschedule a customer who does not have a maintenance agreement, in order to get to the maintenance agreement customer sooner.  The maintenance agreement is really a no brainer, pay for service you should be doing every year anyway, and get a bunch of benefits and perks for free.
What are the signs that my system needs maintenance?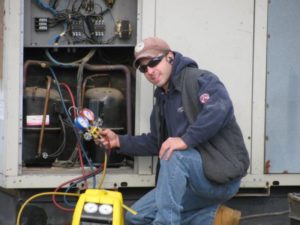 The obvious answer is when it no longer provides heating or cooling for you, but there are other things to consider as well.  Listen to the way the system runs.  Is it louder than it used to be?  Do you hear clicking, banging, whirring, or other strange noises you never noticed before?  Have your utility bills seemed to be climbing or much higher than what you consider normal?  HVAC systems often do fail and stop working and it is obvious.  But there are often signs leading up to that failure that you can catch before it is a failure.
Typically when a system fails it puts you in an emergency situation.  The problem with emergencies is that it limits your decision making because you can't do adequate research to consider replacement options, nor can you wait and schedule out the repair for when it is convenient for your service company in order to save some money on the invoice.  This is why proper maintenance is so important.  It gives you an idea of what condition your system is in and allows you to plan for the inevitable.
We highly recommend paying some attention to your heating or cooling system to try to prevent those emergencies.  Addressing issues beforehand can prevent an expensive repair of parts that may not have failed had they been found earlier.  Give us a call to set up a maintenance visit today.