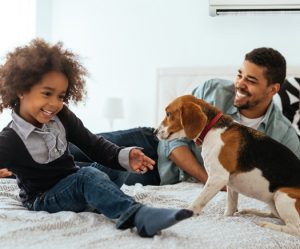 According to the US Environmental Protection Agency, "indoor air quality (IAQ) refers to the air quality within and around buildings and structures, especially as it relates to health of comfort of the building occupants." When IAQ is low, your home may feel stuffy and family members could experience increased allergy symptoms. Custom Climates HVAC offers effective, whole-house solutions to clean the air, protect health and improve home comfort.
Causes of Poor Indoor Air Quality
At Custom Climates HVAC, we understand that a busy lifestyle can get in the way of house maintenance. Before you know it, dust and pet dander have filled the air. How do these allergens spread? Oftentimes, a traditional heating or cooling system is to blame.
As these systems age and maintenance is neglected, they can circulate dust and allergens throughout the home when they run. While ineffective air filter or duct cleaning could be the cause, poor indoor air quality usually indicates it's time for an HVAC system upgrade.
Better Home Air Quality
Clean, breathable air should be of the utmost importance to homeowners. To enhance your home's indoor air quality, we may recommend the following options:
Home Air Purifiers
Furnace or Heat Pump Humidifiers
Home Ventilation Systems
Central Dehumidifiers
Programmable Thermostats
Zone Control Systems
Whole Home Duct Cleaning
Upgrade to an Efficient System
To learn more about our indoor air quality system enhancements or to schedule a free, no-obligation appointment with one of our installation professionals, contact us today!