Does your home have hot and cold spots?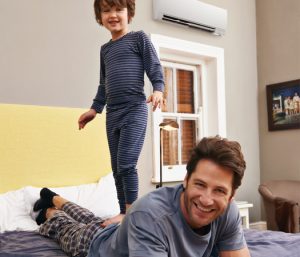 If your HVAC system is underperforming, your family and guests are left uncomfortable. Whether you lack the room for ductwork or are looking for the most energy-efficient heating and cooling system, ductless mini-splits are an affordable and effective comfort solution.
How Do Ductless Mini-Splits Work?
When ductwork is too expensive or not possible to install in your home, turn to ductless mini-splits! These systems have two basic components – an outdoor compressor/condenser and an indoor air-handling unit – that work together to deliver cool or warm air, when and where you need it. For traditional and new construction homes, it's popular to install these systems in room additions, enclosed patios, offices, finished basements and bedrooms.
Benefits of Ductless Mini-Split Systems
According to the Department of Energy, duct losses may account for more than 30 percent of energy consumption. Through the cutting-edge advancements of ductless technology, homeowners enjoy the following advantages with mini-split systems:
Quiet operation
Indoor air quality
Increased energy savings
Less time to install than central air
Available ceiling-mounted, wall-mounted or as a floor-standing model, ductless mini-split units fit seamlessly into any home design.
Single & Multi-Zone Solutions
Ductless mini-split heating and cooling systems can be used for both single and multi-zone applications. Control the temperature in one room or all different areas of the house to reflect varying comfort levels. With a multi-zone application, each living space has its own air-handling unit to adjust the temperature as needed. Single-zone applications also provide year-round comfort, but in one dedicated room.
To learn more about ductless HVAC solutions for your home, contact us today!