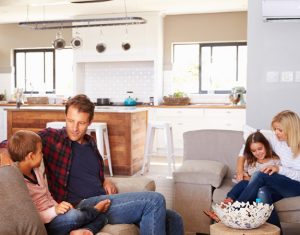 New Hampshire weather is constantly changing – how does your home handle the temperature fluctuations? Unfortunately, many homeowners are living with an air conditioner that doesn't perform up to par. Your system should keep up with the demand of hot summers, as well as unseasonably warm spring and fall seasons. When you make the choice to upgrade a poorly functioning A/C unit, work with a local company you can rely on: Custom Climates HVAC.
Choosing the Right A/C System
There are many signs your air conditioner needs to be replaced, including unusual noises, lack of cool airflow and increased energy bills. The task of selecting a new A/C unit can seem daunting, with so many products and features on the market today. How do you find the right system for your household?
First, ask yourself a few questions:
Does your home have hot and cold spots?
Does your family fight over the temperature?
Have you experienced a decline in air quality?
Do you plan to make future renovations to the home?
What's your budget for a new home cooling system?
The more information you can provide our technicians at Custom Climates HVAC, the better we can address your home cooling needs. For instance, we may recommend a ductless mini-split system to those making future home renovations, if they lack room for extra ductwork.
Benefits of a New Air Conditioner
Rather than continuing to spend money on an air conditioner that doesn't keep your family comfortable, reap the benefits of installing a new system! Energy-efficient, high-performing models offer the following benefits to homeowners:
Decreased energy consumption
Lower energy bills
Reduced carbon footprint
Access to rebates/tax credits
Improved indoor air quality
To get started, schedule an in-home consultation to inspect your current system and explore the best options for replacement. Our professional, courteous and experienced technicians will install your new cooling system, so you get back to comfort in no time! We are a proud distributor of Trane, Rinnai, LAARS and Mitsubishi air conditioning systems.
To learn more about a new air conditioning system for your home, contact us today!