Pentair Pool and Spa Heaters
What should I consider when selecting a new pool heater?

Pool heaters are a wonderful convenience in the cold New Hampshire climate.  We typically only have a couple of months of a real summer season. By the time the pool warms up naturally from the weather, the time we have to enjoy it is reduced.  A pool heater can be a great investment so that you can use your pool for a longer amount of days during the season.  Or of course, if you wanted to use your pool year-round, a heater is a must even for indoor pools.  There are several great options for pool heaters and you should consider the usage of your pool before you decide.
Fuel Type
What is your existing fuel type or what fuel sources do you have in your home?  Is it propane, natural gas, or oil?  There are advantages and disadvantages to each, but the type of fuel helps narrow down the options.
Usage and Recovery
This is possibly the most important thing to consider.  Are you looking to maintain a constant warm temperature or are you looking for an occasional warm up the pool a bit type of heater?  A heat pump is built for a lower recovery than a gas unit.  Heat pumps are generally far more efficient but gas gets you warmed up quickly.  This is important to decide which you are more likely to benefit from.
Why does Custom Climates carry the Pentair line of products?
Over the years Custom Climates has serviced quite a few different pool heater brands and still continues to do so.  When it comes to the pool heater units that we have found to be the most reliable and the best supported from the manufacturer is Pentair hands down.  Custom Climates is proud to be the preferred local Pentair dealer and service provider. We have very successful installations from houses to hotels, and highly recommend the Pentair line of products for your project.  Pentair has an excellent reputation and history for standing behind their products and offering support to their customers.
What benefits do Pentair pool heaters have?
Heat Exchanger – A 100% pure titanium heat exchanger is the highest quality and performance.  This offers corrosion-free performance.
Controls – Digital controls offers best controls and monitoring of the system.
Self-diagnostics – The system can diagnose itself if ever an issue is to surface.  This allows us as a technician to come out to service it and which parts may need to be brought or what documentation should be referenced.  This of course, saves you time.
Compact Design – The compact design of these units keeps them mostly out of sight and out of mind.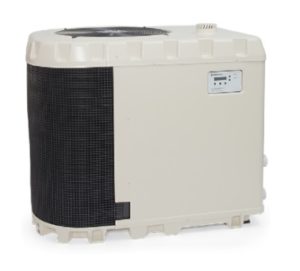 What Pentair pool heater is right for me?
The selection of the right Pentair pool heater will be based on the factors already discussed.  Additionally, the size of your pool and the area in which you live will impact the model and size of the pool heater needed.  We recommend having Custom Climates come out and gather all the data needed for a proper design for your pool.  Custom Climates expertly designs and walks you through the process.
Contact us to set up a visit to see what Pentair product would be best for your pool and home.