What is a Mitsubishi Ductless Heat Pump?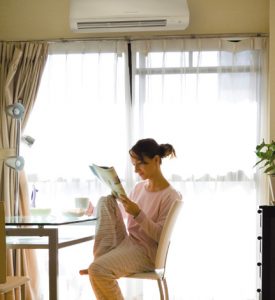 Some people know them as ductless, some people know them as mini-splits, and some people know them as heat pumps, but they are classified as "Air Source Heat Pumps." Why are they called air source heat pumps? Because rather than using combustion from fossil fuels in your home to create heat, an air source heat pump pulls the heat out of the outdoor air. But don't let the name fool you, these systems do it all… heating, cooling, dehumidification, and air filtration. You get one system for all seasons.
An air-source heat pump runs on electricity. A lot of people, when they hear it runs on electricity immediately reject the concept and say, "I don't want electric heat." Well, we don't want you to have electric heat either, and even though a heat pump runs on electricity, it is not electric heat, it is the most efficient heating source, as well as the most efficient cooling source on the market today. Keep reading to see why we can say that you won't have electric heat with a heat pump.
How Does a Mitsubishi Ductless Heat Pump Work?
You have probably heard of a light particle called a photon. Photons are used in solar power generation. A photon comes from the sun and when it hits a solar panel, it sheds an ion. That photon then becomes an electron because of losing its ion and you get electricity. There is a thermal heat particle most people have never heard of called a phonon. Phonons are in the air at any temperature above -459 degrees F (absolute zero). As the temperature increases, there are more and more phonons available. So you can see there is a lot of heat in the air even when it feels freezing to us humans.
So with a heat pump the refrigerant in the system absorbs these phonons. In the case of air conditioning your home, the refrigerant absorbs the phonons from in the home. With heating your home, the refrigerant absorbs the phonons outside. The more phonons removed from any given space, the cooler that space is going to be. Both your heating and cooling work through the same refrigerant, a heat pump is basically an air conditioner that can also operate in reverse.
When there is a call for heat inside of the home, the refrigerant absorbing all of the thermal heat particles gets compressed into a tiny area and heats up. So the reason the heat pump is so efficient is that the electricity does not create the heat, it is simply running the fans and compressor.
Electric heat is a different thing altogether. Electric heat is what is called "Resistance Electric Heat." In that type of heat, you are converting electricity to heat. This is far different, and for anyone who has had it, the most expensive type of heat there is especially in New England. With electric heat you get a little over 3400 BTU's per KW, but with an efficient heat pump, you may get as much as 12,000 BTU's per KW. As you can see, a Mitsubishi heat pump is very efficient.
Why Does Custom Climates Carry the Mitsubishi Line of Products?
As a Mitsubishi Diamond Elite Contractor, Custom Climates is very proud to be one of the leading Mitsubishi Dealers in New Hampshire. Mitsubishi is our premier line of ductless mini-splits because we are in a cold climate, and simply put, no heat pump is more reliable at low temperatures than Mitsubishi Hyper Heat. Over the years we have installed and worked on Fujitsu, LG, York, Panasonic, Daikin, and others, and we have found that the most well built and well-supported product is Mitsubishi. Like all of our products, Custom Climates always measures the equipment we represent based on five categories: Comfort, Reliability, Efficiency, Safety and affordability.
What Benefits Does Mitsubishi Ductless Have?
Comfort – When it comes to comfort, nothing on the market matches Mitsubishi Hyper Heat. In fact, several of the employees of Custom Climates have chosen Mitsubishi Hyper Heat for their Home Comfort System, and these are people who can use anything they want.
With Mitsubishi's Zoned Comfort Solutions, everyone in the family can enjoy the temperature that is best for them. No more thermostat wars. Each bedroom can be at a different temperature, and some zones can be completely off while others are on. No other system is infinitely adjustable the way Mitsubishi is. And with Mitsubishi's Inverter Driven Technology, delivers the amount of warm air that you need, no more, no less. The inverter also makes it so the system does not turn on and off at certain temperature thresholds, it will ramp up or down to achieve the desired temperature. The goal for the highest efficiency is to let a system run 24/7 never shutting off, and during that time the temperature never gets out of a 3-degree band from your set temperature. It may seem counter-intuitive to have a system that never shuts off, but the most inefficient period for any heating system is when it first starts and when it shuts down.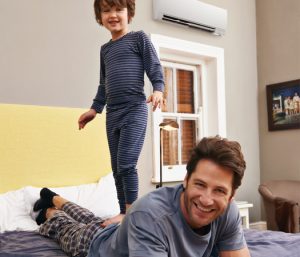 With Mitsubishi's Hot- Start you will feel warm air instantly, unlike those products that blow cold air on you while they are working to heat the coil.
With Mitsubishi's wide range of smart controls like Kumo Cloud, room temperature sensors, i-see sensors, and thermostats, no other ductless system can deliver the even distribution throughout a space like Mitsubishi.
Mitsubishi's advanced multi-stage filtration will capture contaminants that trigger allergy and asthma symptoms, and their platinum deodorizing filter uses nano-technology to neutralize smells and absorb odors.
Finally, Mitsubishi's whisper-quiet operation has a "no noise" on and off, and at full speed it runs at about 40 decibels, which is comparable to your refrigerator in the kitchen. No more of the rumble when your boiler or furnace kicks on.
Reliability – All Mitsubishi Equipment, when purchased through Custom Climates, comes with a 12-year warranty on every part of the system. Because there is no combustion, there is no heat exchanger to crack, and this system, with proper maintenance, should remain trouble-free for decades.
When your system is installed by Custom Climates, we use crushed stone under the outdoor condenser pad, all superior materials including premium line sets, perma-gum to seal all holes, and much more to make sure your system is trouble-free for many years to come.
In all of our years of experience we have never worked with a manufacturer that stands behind their products and their dealers the way Mitsubishi does.
Efficiency – On the cooling side, Mitsubishi is 40% more efficient than most conventional AC systems. On the heating side, per BTU of heat, Mitsubishi typically costs less than half of oil or propane. Many of our customers originally call us to get Mitsubishi for air conditioning, and when they find out that they can cut their heat bills by more than half, they decide to go with a hyper heat system and now they have turned a comfort-based purchase into an investment since the savings offer an ROI. Mitsubishi Hyper Heat may just be the most efficient way to heat and cool your home in New Hampshire.
Also, many Mitsubishi products are Energy Star rated and can qualify for lucrative rebates from your New Hampshire electric utility company.
Safety – We have all heard the stories of a propane tank blowing up, carbon monoxide leaking into a home, or fires started by a curtain on an electric heater. None of that can happen with Mitsubishi. There is no combustion, so there is no carbon monoxide, no open flame, and there is no other home heating system that is safer for you and your family. Just simple, quiet operation without all of the worry. There are also many safety controls and switches to ensure that the system will shut down if there is a problem.
One common way for a burglar to break into a home is to push a window AC into the home and climb through that window. Mitsubishi does not use your windows, so close and lock them and enjoy the comfort year-round.
Affordability – Ductless heat pump systems tend to be more expensive than traditional heating systems, but affordability can be looked at in many different ways. While it may cost you more upfront than those fossil fuel systems, over time, there is no more affordable heating and cooling system. Because the ongoing operating expenses are so much less than conventional, it is cheaper over the long haul. If you were to take the all-in costs for installation and operating, it is usually between 6-8 years, before you have spent the same amount of money on those fossil systems as you would have on the Mitsubishi Hyper Heat. So in 6-8 years, you spend the same amount of money, which equipment would you rather have in your home? The super-efficient Mitsubishi or the old fossil fuel type?
If you want the best for your home, Custom Climates has Financing available to make Mitsubishi affordable for any budget.
Call Custom Climates today for a free in-home design and estimate.
As a Mitsubishi Diamond Elite Dealer, we are very versed in design and sell hundreds of systems every year. We often hear things from Customers like, "No one else designed a system the way that you did," or "You were the only one that measured my house."